Unified Communications
connect,
communicate,
collaborate
overview
What is Unified Communications anyway?
To put it in perspective, nowadays a typical business person communicates via a plethora of ways including phone calls, video conferencing, instant messaging, email, SMS, fax – the list goes on and on.
Therefore Unified Communications (sometimes abbreviated as UC) refers to a concept where all these multiple communication channels are integrated("unified") into one. The main takeaway here is, UC allow a person to have all this information easily accessible, irrespective of when or where he needs access (home, work, in a car), and how he needs access (laptop, tablet, smartphone, internet cafe…).
Our Solution
3CX Phone System offers complete Unified Communications(UC), out of the box with no hassle. Suitable for any business or industry, 3CX gives you capabilities for voice, video, chat/text, status and email communications in one platform.
3CX can be configured for an small office with a few people to a large organization with thousands of employees with advanced call center features, at a fraction of the cost.
With 3CX at your office, your business communications is taken to the next level, collaboration among your staff is improved, productivity is increased and most important you can enhance your customer and stakeholders experience whenever they contact you.
For detailed product & technical information, visit 3CX Website
Features
3CX eliminates the cost and management headaches of traditional phone systems
Unified Communications

3CX's is plug and play with popular IP Phone manufacturers; such as Snom, Yealink and Fanvil; SIP Trunks and gateways without hassle. With 3CX's modern, intuitive VoIP softphone and smartphone apps, users have instant access to communication tools such as status,instant messaging, web conferencing, the ability to chat & talk with website visitors, fax & voicemail to email and more.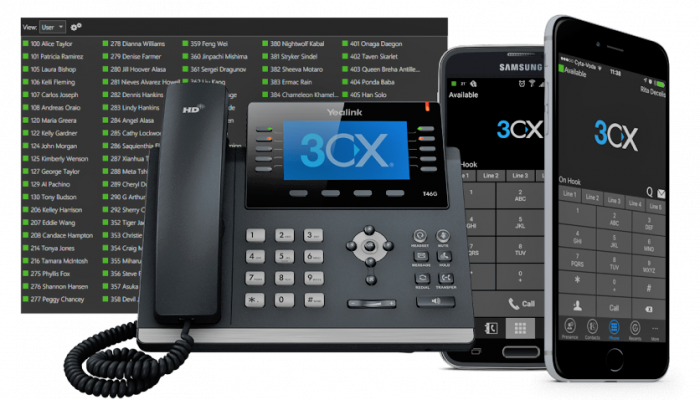 Office Without Limits
3CX includes VoIP apps for Android and iOS which allow you to take your office extension with you anywhere. These dedicated apps offer a full range of Unified Communications features including presence, chat, conferencing and more. Answer calls to your office phone extension via your mobile device and transfer to colleagues without asking customers to call another number. You never have to miss a call again!
Video & Web Conferencing
Video conferencing has become an essential part of daily business communications. Whether its to catch up with a team member who is travelling or to give an online sales presentation. 3CX's
integrated video conferencing is easy to use and enables businesses to save time and money by hosting virtual meetings, whilst enjoying the
benefits of face-to-face communication.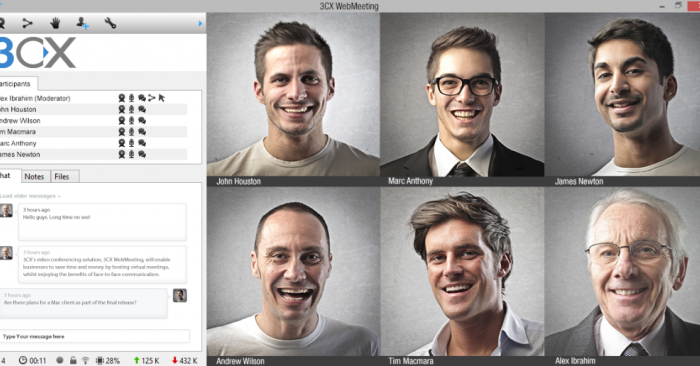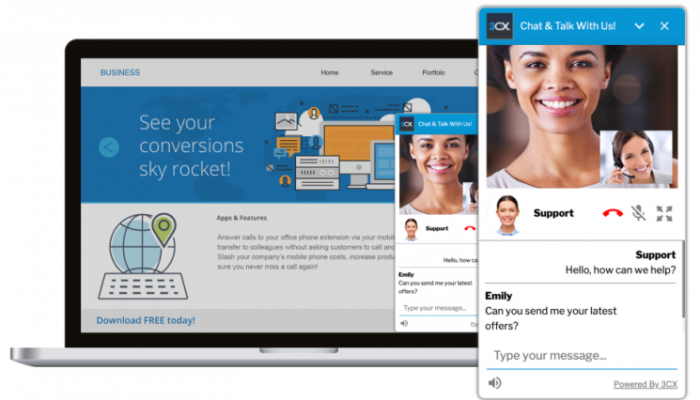 Customer Call Center
3CX offers advanced call center features for enhanced customer service. Make sales, offer support, resolve issues and build customer relationships using the latest in unified communications and call center technology. 3CX Website Plugin allows you to interact and call your website visitors in real-time for a truly seamless customer experience.
Integrate with CRM and Business Apps
With 3CX you can integrate your CRM, ERP and Accounting System with your PBX and be able to launch calls with a single click. Inbound calls are automatically linked to the customer record which pops-up on the screen and all calls are logged into your CRM. Integrate 3CX PRO with MS Exchange, Salesforce, Microsoft Dynamics, Microsoft Outlook, Office 365, Zendesk and more!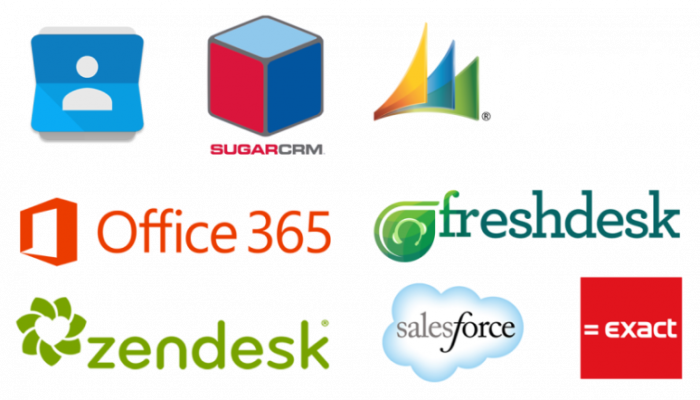 Services
Our Professional Services
ICTPACK is a certified 3CX Partner
We provide 3CX Phone System as an exclusive Business Communication solution to multiple clients and they love it. While there are many options on the market for UC Solutions, we have come to appreciate that 3CX is feature rich and brings a premium customer experience at lower cost compared to other commercial alternatives. Tell us your communication requirements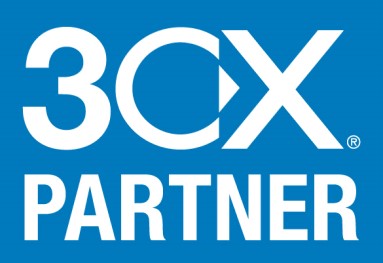 Business Process Consulting

Review and analysis of existing communication processes and systems in place and ready your business for 3CX Deployment.

Implementation and Customization

Configure and customize 3CX Phone System to fit your preferred communication styles and workflow.

Training and Knowledge Transfer

Enabling your staff to utilize the communication capabilities within 3CX for improving their day to day roles and activities.

Upgrades, Support & Maintenance

You are assured of our continued commitment to support you both at functional and technical level.
Benefits
Discover why 3CX is good fit for a true Unified Communication experience
Cost Savings

3CX is a purely software UC and compared to other solutions in the market, it offers a full Communication solution at a very low investment and at the same time saving you money on monthly phone bills.

No Vendor Lock-In

3CX is an open standard solution, you have freedom to choose your own Phone Numbers, SIP Trunks, IP Phones, or even reuse your PCs as extensions. You deploy it on-premise or move it to the cloud.

Mobility

If you are on the move 3CX has got you covered, Integrated video conferencing, Mobility Apps for iOS, Android, Mac and Windows and a modern web client will keep you connected.

Easy to Manage

For IT Admins who have used other UC Solutions, will be surprised at how 3CX is easy to manage in terms of upgrades, security and scalability, its management interface makes these tasks a walk in the park.
"3CX completely satisfied our objectives in regards to what we were looking for in a call center system. ICTPACK made it so easy for us to migrate from an existing call center solution to 3CX, overall the experience has been smooth and pleasant"
Dishon Eseka, Mobisol UK Limited
Frequently Asked Questions
How can we help you?
I need a bespoke solution, where should i begin?
If you have a need for custom software, simply contact us by our Online Form, E-Mail or Call Us directly. We'll write back to you or meet and talk it over. Prepare as much information as you can about your business challenge or problem. If you have a written brief of requirements it is even better.
How much time will it take to complete a software development project?
To give you a precise answer we must first assess your requirements, prepare a project scope and create a budget. We shall then share with you a project budget and delivery timelines.
So simply put it, how much time it takes depends on the scope, urgency and your budget. Negotiations are always on the table, so you are welcome!
Will development include the prototypes or demos that I can try out?
Yes, prototypes are provided depending on methodology we will adopt for your project. For example, with Agile Methodology, we are compelled to create operating software as soon as possible and later just add next features along the process. Therefore, you'll be able to examine and test your software very early.
What happens after we finish developing your app/software?
Apart from delivering a finished product of your dreams, we are happy to provide you with technical support, maintenance or even hosting if you need to access the software from the cloud. More often, all this will be bundled as part of the whole project scope.
Of course if you want to maintain the developed solution by yourself the source code and all technical data is at your disposal, but even in that case, feel free to contact us if you need any help.
How much will i be charged for my software project, what factors are considered in pricing?
It depends on many things: project scope, time spent on the project and technological issues. This may sound vague but we are being honest here.
Each software project is different, that's why we take our time with you to carefully assess your requirements and develop a scope together. Based on the scope then we can provide you a project cost estimate that we can sit on the table and negotiate.
What do I need to know before contacting ICTPACK?
Well, the most important thing to know is what do you want to accomplish or what problem are you trying to solve. Having a clear goal is crucial when initiating this discussion.
You might not be from a technical background, relax….. our team has got your back! They will listen to you, challenge you, improve your thought process so you have a refined goal that we can work on together
Will i be assigned a project contact person who is available throughout the project?
Yes. All our customers are assigned a dedicated Project Manager that serves as a liaison for all matters related to the project and delivery. Your project manager is usually among the first people you meet as soon as your project kicks off.
You will agree a working style that you are comfortable with, meetings, reporting intervals and he will guide you through the whole implementation plan.
What if I want to be involved in the development process?
Why not? We want you to be sure you'll receive the product you desire. From the planning stage to each completed product, we invite you to participate, evaluate, witness and improve our work. Our philosophy is to work with the client, not just finishing the project tasks. We are always ready to listen and communicate.
How do i get assurance that software quality will be guaranteed?
We love to approach complexity in yet simple but innovative ways. We only reinvent the wheel when necessary, otherwise most parts and bits of your software we have already done in another project.
Quality is among our company core values, we invest in it. Our team has analysts and QA personnel who will scrutinize every developers work to ensure it works as desired.
Just like a car straight out of assembly line, Engine CHECK, Transmission CHECK, Wheels CHECK, Paint job CHECK, your software is given the best of us.
Why does custom software at times, demand a large investment?
Building a custom software application especially for mature business processes is a time-consuming endeavor. It takes time to learn the processes of your business, to gather requirements, to flesh out your needs, and to build the software. Put simply, time is money.
While sometimes it's kind of a large investment depending on how you interpret "Large", but by deciding to invest in custom software, you'll own the code 100% instead of having a long-term licensing agreement with a software company.